Hi Friends, 
Hope you are all well and enjoying your summer so far. Wanted to give you a quick update of where we are and what we've been up to. 
June is Dedicated to the Sacred Heart of Jesus 
June 24 (TODAY) is the Feast of the Sacred Heart of Jesus. 
Even though we are approaching the end of the month, we are believing in a Month of Miracles for Sacred Heart Ranch of Idaho so we can begin serving young women who need us. 
* If you haven't donated, will you consider helping us? 
* If you know someone who would love to be a founding donor, 
can you share this email or our website with them?  
Thank you for helping us spread the word. 
Thank you to all who have donated and prayed for us so far. We are excited to have hit the $315,000 mark but have a ways to go towards being able to purchase property and home.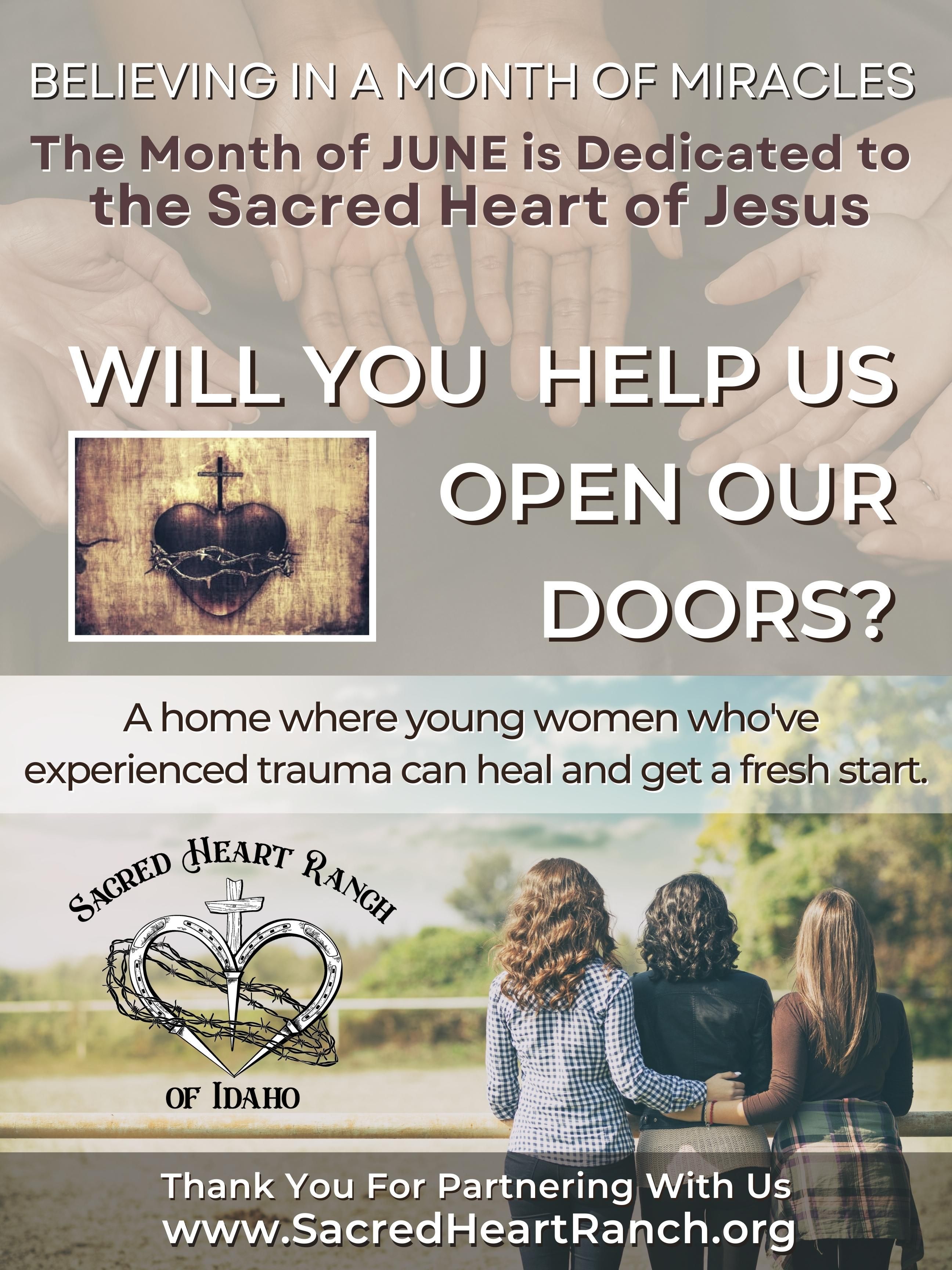 We Hired a Development Team 
We are excited to announce that Sacred Heart Ranch has engaged a professional development group to assist us in formulating and implementing a strategic 12 month fundraising and development plan to support our efforts in securing funds for Sacred Heart Ranch and ensuring its sustainability. This is a significant step for us to raise 2.3 million with a firm that believes as strongly in our mission as we do. 
The hiring of this firm has the full support and financial backing of our board. We felt we had taken it as far as we could without professional assistance. We are looking forward to these next important steps.  
Another Call For Help from a Young Woman 
We received another email this month. This time from a mother of a young woman who could be a potential guest at Sacred Heart Ranch. We get at least one of these calls per month. It is always heartbreaking to tell them that we aren't open yet. The need is there and we pray we can open our doors soon to begin serving those who need what we will be offering. 
Please continue to keep us in prayer and support financially if you are able. 
Gratefully, 
Jaime, Pete and the Sacred Heart Ranch Board 
www.SacredHeartRanch.org