Thank you for your consideration in becoming a Founding Donor and helping us raise the funds needed to purchase property and home to make the ranch a reality. It is important that Sacred Heart Ranch of Idaho is built on a strong, long term/sustaining financial foundation so that our focus can be on those we serve and help. There are many ways to make a gift to Sacred Heart Ranch. Some of the most common ways to make a gift are Direct Gifts, Planned Giving, Matching Gifts, IRA Charitable Rollovers and Tax Strategies (e.g. appreciated assets and stocks, annuities). Our vision is to provide an enduring place for young women for many years to come.  
THANK YOU FOR YOUR DONATION
Your donation is Tax Deductible.   EIN #85-1683176
DEBIT OR CREDIT CARD
CLICK DONATE BUTTON BELOW to donate securely through PayPal
(Note: A percentage/fee is taken out of your donation to pay the PayPal fees.
   If you would like to send a check, no fee's will be deducted and Sacred Heart Ranch will get the full amount you donated.)


MAILING A CHECK  
Please make check payable to:
SACRED HEART RANCH OF IDAHO 
Mail to:  
148 Blue Lakes Blvd. N. 
#122 
Twin Falls, ID 83301
BUILDING/LAND PURCHASE PLAN
To purchase existing 10+ acre property with home, barn, shed/garage etc. We anticipate  needing funds to renovate to fill our specific needs for the property.
OR
To purchase 10+ acre property and build home, barn, shed/garage for equipment, fencing, etc.
Note: Having the buildings/property paid in full at opening makes ongoing sustainability more achievable. A mortgage payment would make it more difficult for us to survive from year to year.   
FUNDRAISING PLAN
2021-2023 Capital Campaign 
We are working to raise funds to purchase an existing residence/property or buy land and begin building. 
A generous donor has pledged $100,000, we have our first $100,000 Legacy gift and another generous donor has pledged to match all donations dollar for dollar, up to $25,000. Thank you so much to those who helped us reach our goal of $2500 to cover our initial business startup costs in 2020. Our hope is to open in the near future when we can find a suitable property based on  our fundraising efforts.
 A more detailed Financial Projection is available upon request. Please contact us for more information. click here
08/08/2023 - First Annual Fundraising Event Raises OVER $22,000 for SHR
WOW! A Huge, HUGE THANK YOU to ALL who Supported Our First Annual Red Carpet Fundraising Event for Sacred Heart Ranch of Idaho.  
Thank you to our Sponsors! Thank you to those who mailed in checks/donations before and after the event! Thank you to our Volunteers! Thank you to those who came to the event! Thank you to Wally and Pam Veazie (writer/producers of Christine's Wager) for their belief in this mission and for giving a private-screening of the movie before it's release! We feel so blessed! Thank you ALL for believing in this mission with us to help young women in the Magic Valley and beyond who need our help for a promising future.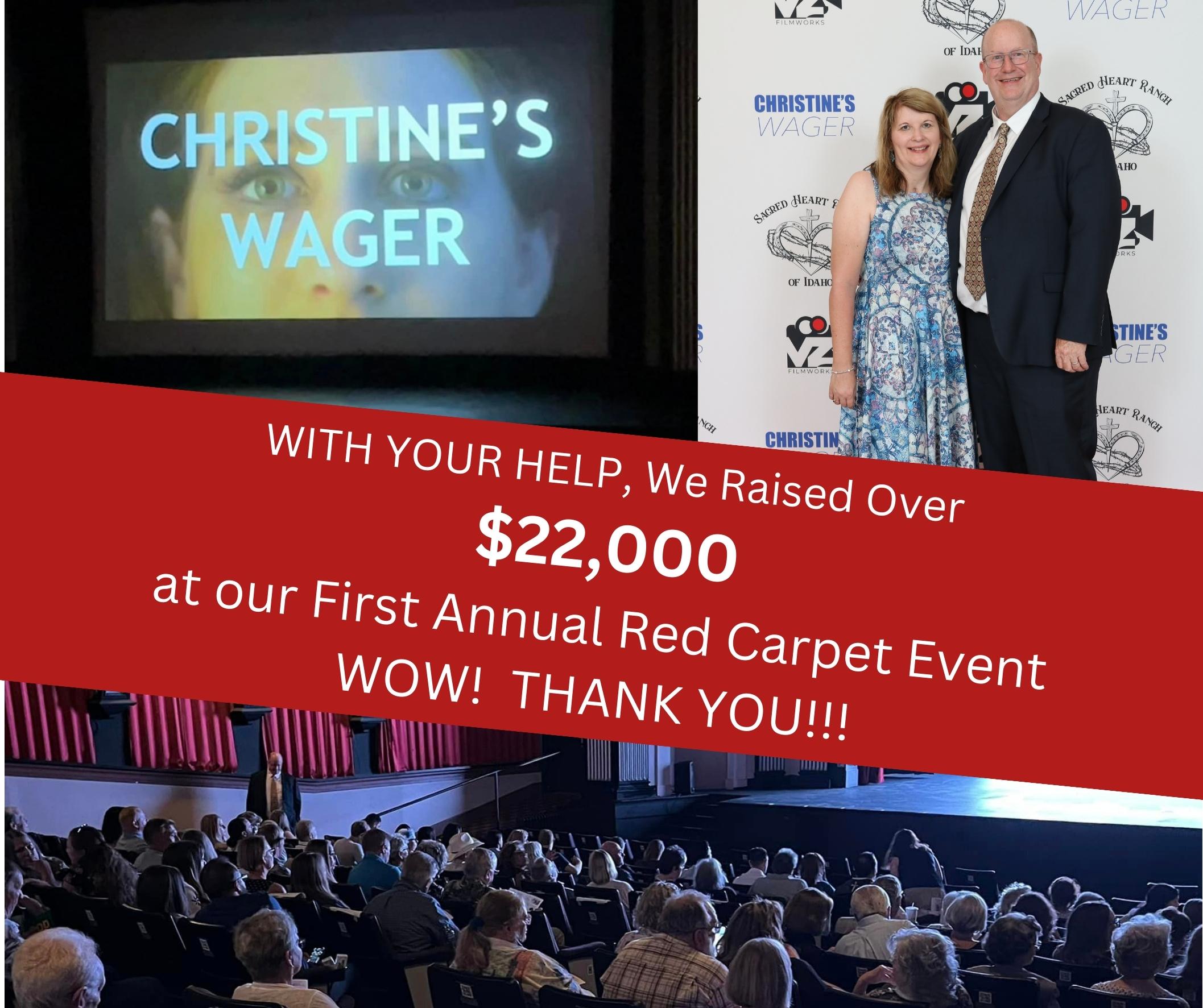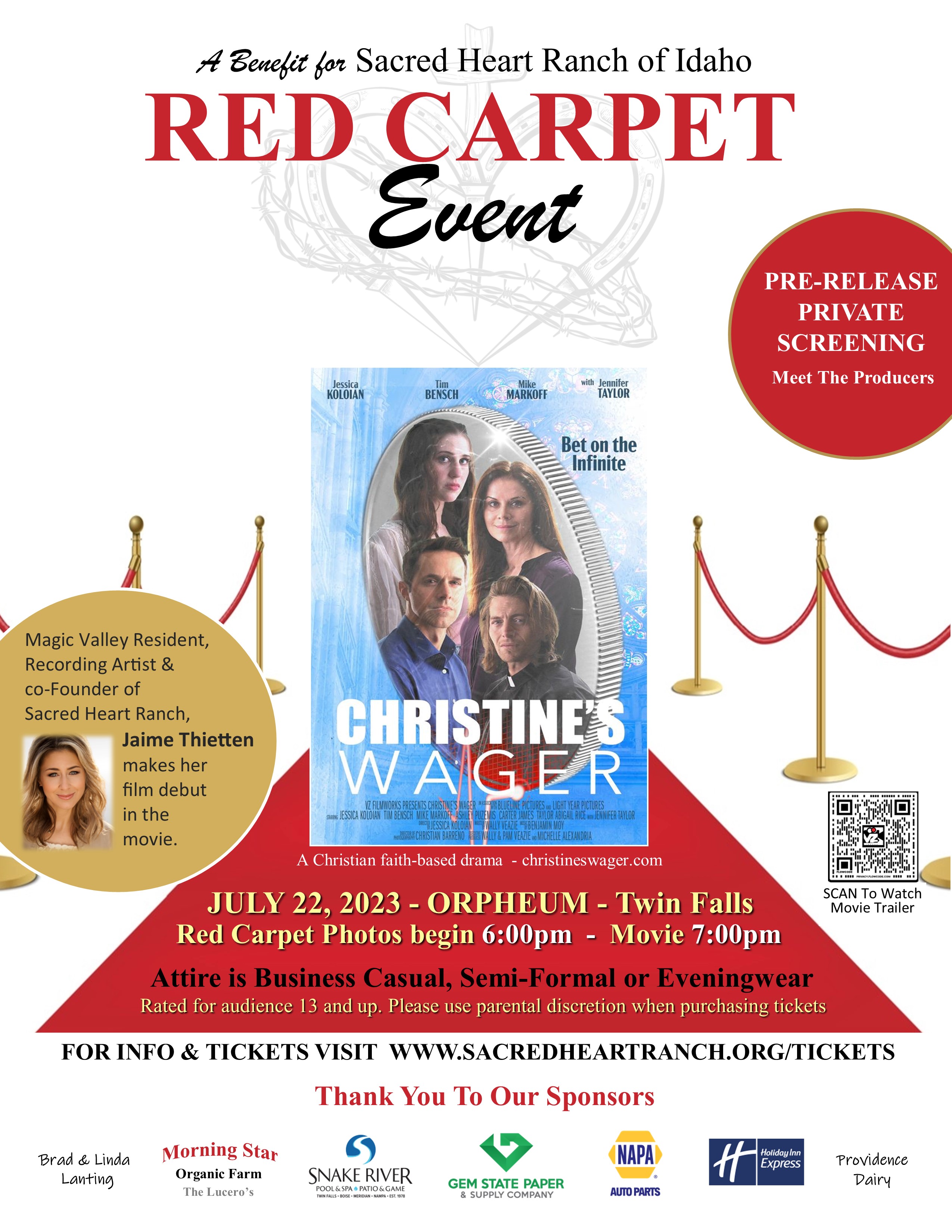 Because or your incredible generosity, we raised OVER $22,000 (after expenses).  
12/31/22 - Matching  $5,000 Met
 We Made It! THANK YOU!
A HUGE THANK YOU to all of you who donated between 12/16/22 and 12/30/22. We exceeded the $5,000 needed to meet our $5,000 match. WOW! You guys are AMAZING! There are still checks coming in the mail but so far we have received over $6,500 towards that match. We want to thank Dr. Michael and Wife Kate from North Carolina who were extremely generous to match dollar for dollar up to $5,000 to go towards our goal to be able to acquire property and home.
12/16/22 - Matching Gift Challenge of $5,000
Thank you Dr. Michael and wife Kate for this wonderful opportunity. We have until December 31st to turn $5,000 into $10,000 for Sacred Heart Ranch!!! Can you help us?
12/31/21 - END OF YEAR UPDATE
We hit the $300,000 mark!!!
Through Donations, Pledges and Future Sustainability Pledges we have hit $300,000! From the bottom of our hearts we want to thank you for your generosity. We feel very good with how far we've come in 1 year and are confident that we will reach our goal. Thank you again. We are excited to start serving and helping young women in our community and beyond.
7/15/21 - FUNDRAISING UPDATE 
OUR FIRST 6 FIGURE PLEDGE !
Praise be to God! Thank you for your Prayers!!! We have received our FIRST 6 FIGURE PLEDGE from a very generous individual who believes in our mission to help these young women. 
The donor writes... 
'There but for the Grace of God go I…had I not had the home situation that I did when I was younger, I definitely would have needed a place like Sacred Heart Ranch to help me get back on my feet after a life-upending personal trauma.  I realize so many do not have this option and I want to help in any way that I can. Love and believe in you two and SHR.' - S.S. 
Thank you S.S. for your prayers and for your generosity to this project and home. May God continue to bless your life and your work. 
You can now support Sacred Heart Ranch of Idaho when you shop through AmazonSmile. Click the AmazonSmile link on this page to support Sacred Heart Ranch when you shop.
How does AmazonSmile work? 
When first visiting AmazonSmile, customers are prompted to select a charitable organization from over one million eligible organizations. For eligible purchases at AmazonSmile, the AmazonSmile Foundation will donate 0.5% of the purchase price to the customer's selected charitable organization.